Ford Blue Advantage: Confidence at Every Turn
Experience the benefits of Ford Blue Advantage! Each Ford Blue Advantage vehicle features a limited warranty, multi-point inspection, 24/7 roadside assistance, and FordPass™ Rewards Points.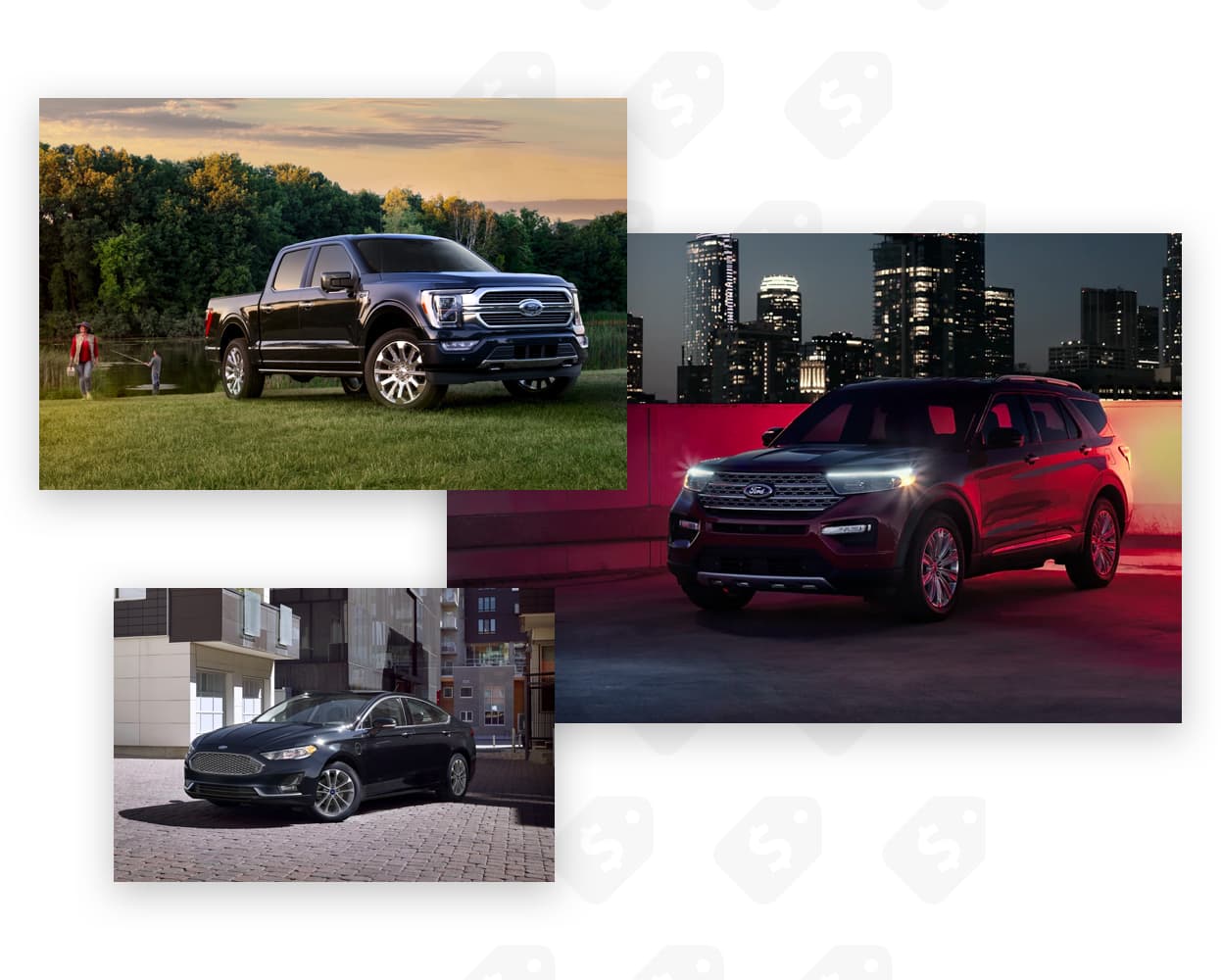 Take Advantage of This Month's Current Offers
Every month Ford releases incredible cash-back offers and special financing rates along with discounts featured in other special programs.
We're Here For You
River View Ford always puts customers first!
Don't take our word for it: Read our reviews and see what everyone is saying.
I like this dealership they seem fair and honest. My salesman Craig made the process simple and quick.
Ordering through River View Ford was a wonderful experience. No sales gimmicks, just honesty and integrity. Craig was great to work with through out the ordering and waiting and Steve was great at the delivery of my new Ford Maverick. Jeanne was efficient and flexible, easy to work with in the finance department. Would recommend this dealership hands down to anyone in the market for a new vehicle.
River View Ford is a great place to do business. I would recommend them to anyone.
Excellent service. Bought my second truck from Craig. Easy process and the wife is happy with the whole dealership experience! 5 stars!
Excellent experience from first contact on the phone to meeting the salesman. No hassles no pressure. Friendly experience from all staff involved.
A great experience working with Craig (again) - we bought another car from him back in 2014..easy to do business with, friendly people at this dealership, and good service.
Excellent experience! I have purchased 3 new vehicles from other dealerships. All of them put me through the usual process and hassle that takes 3-4hrs of my time. All leaving a bad experience in my mind. I highly RECOMMEND this dealership ! they answered all of my questions with none of runaround B.S. They got me thru the process asap. If you're looking for a new Ford, this is the place to go.
Great experience with River View Ford, salesperson was super friendly and knowledgeable about the vehicle that I was looking to purchase.
On a recent Saturday, my wife and I had looked at 2023 Bronco Sports at a different dealership. Even though it has been 25 years since our last "New" car purchase, we were not so sure of them. On Sunday I was googling different phrases using Ford Bronco Sport. That led us to River View Ford and surprisingly I was not hesitant to enter a little information for them to contact me. Monday morning I received a call from Craig Holsman. After a little conversation Craig asked me what we wanted in a Bronco Sport. He was actually on his computer checking availability as we talked and yep, he found the Hot Pepper Red Bronco Sport with all the accessories that we wanted. After talking prices and incentive, all I had to do was say the word and he would go get it. A very short phone call with my Wife and told Craig to get it. My wife filled out the easy Ford Credit Application and we took ownership on Saturday. From his first phone call, Craig sure made our "NEW" car buying experience great. He listens, is upfront about everything, has great communication, and kept us updated as everything progressed. We were pleasantly surprised on how everything went to say the least. On Saturday , the day of ownership, we met with Pattie to do a little paperwork. And again another very helpful and pleasant person, especially going over the functions of the car. Then we met with Abraham, who made the financing end easy and painless. All in all, we will highly recommend River View Ford to anyone for New vehicles. Thanks again Craig for listening and finding us our Stunning 2023 Hot Pepper Red Bronco Sport!
FANTASTIC SERVICE! My daughter's Ford needed repair and we had it in Lafayette, IN. The Ford dealer there would not honor the service contract and tried to charge us for repairs. I contacted Jim R and he was on it FAST! He had the car towed back home at their expense, worked fast to find the parts and even offered to have it delivered at THEIR charge back to my daughter who is in college in IN. Everything was covered under my service contract and I only had to pay the deductible. I own 3 Ford vehicles and will definitely purchase from Ford again when we are ready to upgrade. Thank you Ford and Jim for putting my daughter first and the pocketbook second.
Have now purchased 5 Fords from River View and each time it has been a a very comfortable and rewarding experience. Can't say enough for how fairly you feel treated working with the entire River View sales and management team. I recommend River View to friends and family all the time.
Craig Holsman helped me during my purchase, he did anexcellent job. I am so scared about buying a car but Craig makes it so much easier for me. He finds very good deal for me. Also, he went beyond his excellent customer service. I will recommend him to all my friends and family. Craig and team at river view are amazing. Thank you, Craig and team!!
Great people to do business with. Always treated fairly! They make you feel welcome and they appreciate your business!
Abe and Aldo are great people to work with when shopping for a vehicle, to
I have purchased many cars in my life time but just had the best car buying experience, ever. River View Ford is truly a wonderful place to find exactly what you are looking for. Abraham asked questions and listened to my needs and found me the perfect car. Everyone was so friendly and went above and beyond a normal transaction. Anyone looking to car shop REALLY needs to go to River View for the experience alone. I am one, totally satisfied, customer.
River View Ford exceeds my expectations every time! I've purchased three vehicles from them over the years, and each time I was treated extremely well and got an incredible deal. They're truly the best and I won't purchase a vehicle anywhere else!!!
Have bought our vehicles from River View Ford for years and everything is always perfect!
Craig and team at river view amazing. Craig is a standup gent. I honestly have not met anyone in his line of work that works the way he does. Thank you. A+ rating. Patty and Gary great to work with. Jack great guy and I'll see you for my 1st clutch.
I shop River View Ford because my dad told me to. He was the smartest man I ever knew.
Patti in sales was the one who helped my daughter and I with her Ford escape yesterday. She treated her very nicely and myself as well. My daughter spent many hours there and Patti made my daughter feel very comfortable, and helped us out with a very nice used vehicle at a very fair price! We couldn't be more pleased. I can't thank her enough. Everyone there was so very nice and helpful. The best car buying experience I've ever had.
In these times of little or poor customer service, a new customer to Riverview Ford would be blown away with the satisfaction they would receive here. Being a customer for over 30 years I've come to expect it. The "family" at Riverview bends over backwards to make sure you're happy whether you are purchasing or servicing a vehicle. Even though I live in Indiana, I would never consider going anywhere else.
Craig Holsman helped me during my purchase, he did such an amazing job. He went beyond his excellent customer service. Providing the best he can do and help make it an easy experience on the sale. I will recommend him to all my friends and family. Thank you Craig!!
Jack was wonderful to deal with! Amazing customer service and amazing people. We buy a lot of cars and this is by FAR the best experience we have had. Cory was a great salesman. Wonderful family friendly dealership.
Everyone was very nice and helpful. The whole experience was fast, easy, and efficient. I would highly recommend them.
Friendly staff, ordered a vehicle and delivered at price promised, great prepwork / detail on new car and very knowledgeable staff. Very fair on trade value.
River View Ford
2200 Route 30
Oswego, IL 60543
Sales:
888-994-1003
Service:
630 897-8991
Parts:
630-897-0756
Directions