Ford Blue Advantage: Confidence at Every Turn
Experience the benefits of Ford Blue Advantage! Each Ford Blue Advantage vehicle features a limited warranty, multi-point inspection, 24/7 roadside assistance, and FordPass™ Rewards Points.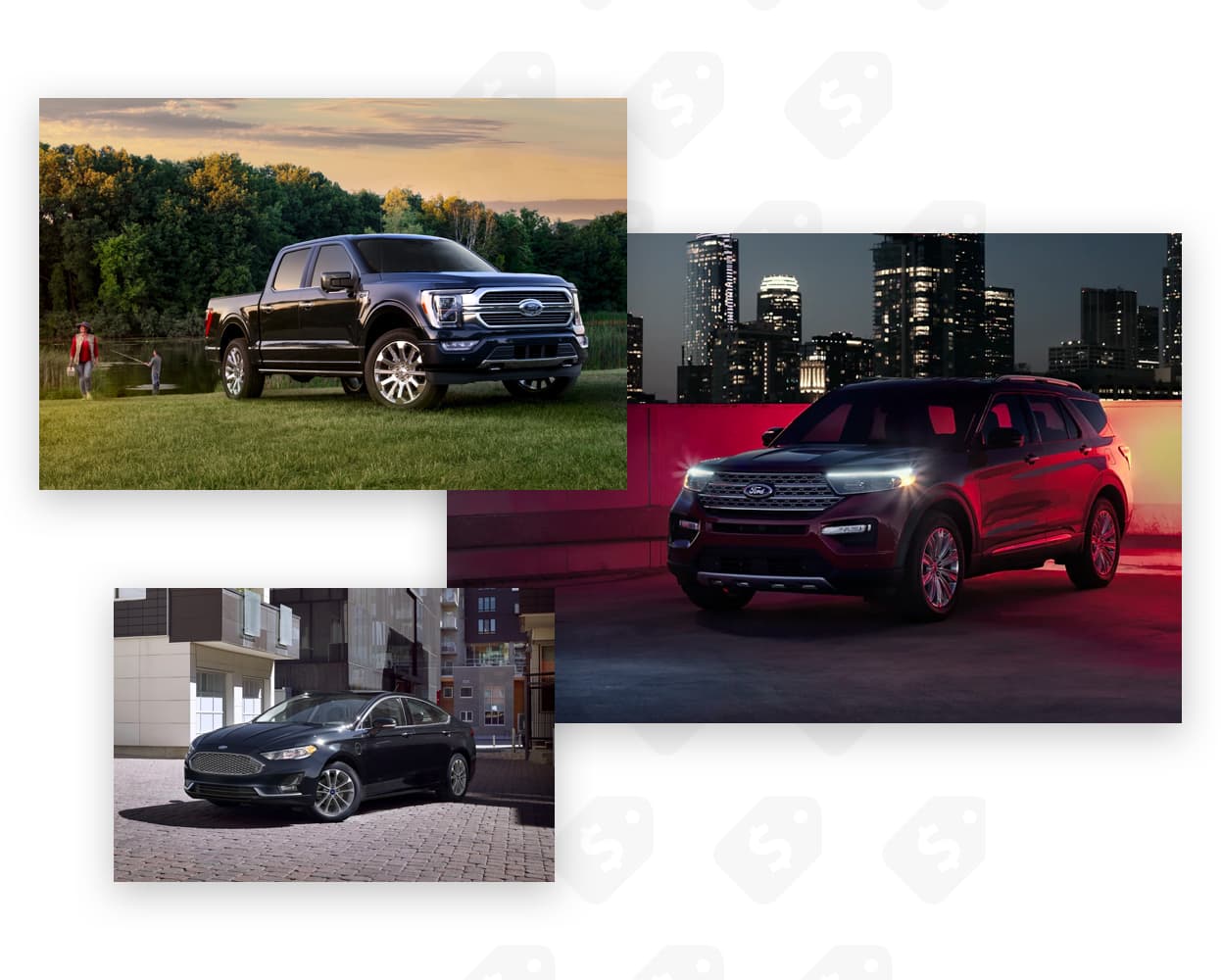 Take Advantage of This Month's Current Offers
Every month Ford releases incredible cash-back offers and special financing rates along with discounts featured in other special programs.
We're Here For You
River View Ford always puts customers first!
Don't take our word for it: Read our reviews and see what everyone is saying.
Purchase went quickly and very smoothly with no surprises.
Everyone was very nice and helpful. The whole experience was fast, easy, and efficient. I would highly recommend them.
I ordered my Bronco on May 19, 2021 and River View (Craig Holsman) was very responsive and patient as I waited 405 days for delivery and made several changes along the way. Although the Bronco arrived with some issues from the factory, River View resolved them within a week even though parts were on backorder. They were all so honest and helpful throughout the whole process, I couldn't recommend a better place to buy a car!! Several friends have mentioned ordering vehicles and I pushed them strongly to consider buying from River View. Craig, Tom, and Jeanne were so great to work with. I'm a customer for life.
Friendly staff, ordered a vehicle and delivered at price promised, great prepwork / detail on new car and very knowledgeable staff. Very fair on trade value.
River View Ford is THE PLACE to shop for a new or used vehicle. The staff was knowledgeable, professional, and no-pressure. They patiently worked with me to identify the type of vehicle I wanted to purchase and supported me along the way. I started talking with River View Ford when I returned from a military deployment to the Middle East. They were the first dealership to welcome me home and thank me for my service. The other dealerships did not. They were patient and worked with me the entire time I was deciding what to purchase. I highly recommend River View Ford and look forward to purchasing from them again in the future.
I was very happy with my experience with River View Ford during my recent purchase of a 2022 Escape SE. My sales person, Ralph, was very friendly, and put me at ease, since I am a widow and this was a really large purchase for me to make on my own. The other staff that worked with me were also very pleasant. Everyone was very knowledgeable and I am looking forward to many years enjoying my new car and knowing I have this dealership supporting me.
I lease 4 cars so it seems like I am at a dealer every year. I have had so many bad experiences over the years. My buddy referred Jack Daniels to me and it was an hour ride but boy was I happy I went. Maybe not the biggest dealer around but that is why you really do feel like you are part of the family when you go there. Jack Daniels was the most amazing salesman I ever met. No pressure to buy gave me a great price and was in and out of there in 45 minutes. Everyone there was so friendly and I felt like I wanted to stay and talk for a while. I truly felt like they cared about me. I urge everyone to try them. You?ll never go anywhere else. I have a dealership that I will now use every time. Jack Daniels and Riverview, thank you from the bottom of my heart. That was the best car buying experience of my life. I?m honored to be a part of your family.
River View Ford has been our dealership of choice for many many years. Every single visit, whether it's to purchase a vehicle or simply get an oil change is pleasant and welcoming. Every member of the team is helpful, knowledgeable, and will go above and beyond for you. It's a place you can truly trust and feel confident in and I wouldn't go anywhere else!
The best service at the best price! Great people to work with. I will never go anywhere else to buy a car!
Great experience all the way around. From Corey in sales to Tom in service. Gary in finance took the time to listen and gave me options. Staff was top notch Once they get some new trucks on the lot I will be back for another purchase
Pattie is the most patient and likeable car sales rep I have ever met My daughter took me to Riverside Ford as she has purchased her car there. I was never pressured and was encouraged to take my time and consider my choice of cars. Pattie did all the computer hook ups and off I went in my beautiful new Eco-Sport It is the perfect car for a- very senior woman. It was a very pleasant day , Everyone there is so nice and genuine.
Really great customer service. I worked with Tom Julian Jr. and had an excellent experience from start to finish shopping for and buying a car.
This is the 4th. car we have gotten from Riverview Ford. They have always treated us good. Tis time we were coming off a lease and going to purchase. Tom Julian was on top of this deal all the way making sure it was the best for us. We are pleased with the outcome and the new car.
I just wanted to share the outstanding sale experience I had at River View Ford. It was honestly the best experience I have had ever had in purchasing a vehicle. Richard Voight is an excellent salesman not putting any pressure on me to by and answering my questions quickly. Rich agreed to a minor touchup and fresh oil change on my used vehicle to meet my needs. When a 2nd key for the truck could not be found he proactively offered to have a new key cut for me at the dealerships expense. When I could not get a ride for the 45 minute drive to the dealership he sent a driver to come pick me up. I would highly recommend this dealership for your used or new car needs.
I just purchased a 2018 from River View Ford. The sales team was great and never pushy. They found a tiny crack in the windshield when performing final clean thus replaced that for me. I was given a loaner and when the repair was done drove my Escape to my house.
What a great dealer to work with, all the way from the sales team to the finance office. Craig, Rich and Jeanne were great! I would definitely recommend this reputable dealer to anyone. I can see why they were rated so high on DealerRater. They have my sincere thanks.
Very professional. Everyone respected my t I me and availability and very accommodating. Easiest car buying experience ever. Thank you everyone for an overall great buy.
Currie Motors of Valparaiso quoted us a monthly payment more than $850. on 2020 Hybrid Escape. We decided to take the two hour drive to River View Ford. That decision saved us $400. EVERY month!!!
I have bought a lot of cars in my life and this was one of the better experiences. No high pressure sales tactics. They really worked with me on my trade in and the car price to get me to numbers that I was happy with. My salesperson Rich V. was very friendly and got all of my concerns/questions addressed. I will definitely consider them when I am ready to purchase my next vehicle.
I emailed several dealerships looking for pricing on a new Ford Raptor. Craig was quick to respond and immediately shared a great price with me. I stopped by the dealership and he immediately introduced me to Jack, the GM of the dealership who made me a fair offer on my trade. We quickly worked the deal and wrapped up paperwork. My truck was prepped and Corey stepped in to educate me on how everything worked and made sure I had a full tank of gas. From start to finish communication was quick, pricing was fair and customer service was great. I never felt like I was being sold or pushed around. This is my first vehicle from River View but certainly won't be my last.
Craig Holsman was great to work with. Very honest and knowledgeable. Worked hard to get me everything I wanted and to make sure I had a good experience. I highly recommend Craig!
Craig was honest and knowledgeable. will refer him to my friends who are looking for a car he took all the time needed to answer my questions
They did detail the car for me after I bought it found it had not been vacuumed since it was being driven by them. 1 thing they could have done for me was put a rubber plug on my drivers floor mat I know its picky but it's the little things I have done at lot of business with them.
This Ford was the only one willing to help me get the car I wanted and getting my payments where I needed them! They took the time to get me all the possible discounts and found my car I wanted with every feature I was looking for. Craig was awesome!
Bought my 3rd vehicle from Craig. In and out in about 2 hours. Best price around, as always. Will continue to deal with them, it was a no hassle experience.

Welcome to River View Ford
Your Nearest Ford Dealership in Oswego
Welcome to River View Ford, the nearest Ford dealership to Naperville where you can shop for new and used cars, secure Ford financing deals, and more! Owned and operated by local Naperville resident John Hennessy, River View Ford prides itself on customer satisfaction and a non-confrontational atmosphere, establishing itself as a leader among car dealers in Oswego. No matter where you are from in the Montgomery area, River View Ford is here as your go-to Ford dealer.
New Ford Models and Used Car Sales
Searching for the nearest Ford dealership that boasts the entire lineup of new Ford models? Look no further than River View Ford! As your Oswego Ford dealer, we have every Ford model in stock, as well as a range of used Ford vehicles from which to choose. That's not to mention the pre-owned cars we sell from different automakers and model years, providing you with the ultimate selection to enhance your Yorkville drives. Whether you go with a new or used car, truck, or SUV, you can count on everyday low prices bolstered by new vehicle specials and used car deals.
Ford Financing Deals
Once you have decided which model you prefer from the selection at your Ford dealer, the finance experts at River View Ford will step in to get you set up with the loan or lease that works best for you. In fact, our Ford financing deals are likely some of the most competitive you will see among the nearest Ford dealerships in the Aurora area. Rest assured that we have you covered every step of the way!
Ford Automotive Service and Parts
Your experience at River View Ford, your nearest Ford dealership in Oswego, doesn't end when you sign the dotted line. We're committed to serving you for life, which is why we have a state-of-the-art service center on site. Our certified technicians can handle every maintenance task and major repair you encounter over the course of your lease or ownership, and our fully stocked parts department has everything you need to customize your vehicle. Remember that with River View Ford, you are never alone in taking care of your car!
Visit River View Ford Today!
Stop by River View Ford today, or get in touch with any questions. The team at River View Ford is extremely dedicated to your satisfaction, which is why we offer Ford financing deals, top-notch auto service, and a vast selection of new and used vehicles. We look forward to working with you!
Contact Us
River View Ford
2200 Route 30
Oswego, IL 60543
Sales:
888-994-1003
Service:
630 897-8991
Parts:
630-897-0756
Directions