Weight Classifications Demystified
Like all truck manufacturers, Ford uses a coding system to categorize their trucks based on capability. The Ford F-series has been around for more than 70 years and, while they've remained rugged go-getters during that time, their capabilities have changed as technology and engineering have. If you've been asking, "What does F-150 mean?" or "What does F-250?" you find the answer, below:
F-150: Considered a lightweight full-sized truck, the F-150 is Ford's half-ton go-getter. These trucks generally have about a 1,000-pound payload capacity, although this varies depending on trim, cab, and engine options, and can measure up to 2,300 pounds.
F-250: The F-250 is a medium-weight truck classified as a three-quarter ton. This classification means the truck is rated for a payload of about 1,500 pounds, although depending on the options buyers select, it could manage up to 4,300 pounds, making it ideal for Naperville drivers who need a good blend of commercial and personal capability.
F-350: Typically, the heaviest trucks chosen by consumers are the one-ton F-350 models. These trucks offer a standard 2,000-pound payload capacity and can manage as much as 7,000 pounds when properly equipped, making them a top choice for Montgomery businesses who need serious hauling power.
F-450: The Super Duty line of Ford trucks includes the massive F-450, which offers a standard payload ranging from 5,400 to 6,200 pounds. This heavy-hitter is a top pick for Yorkville businesses who require a truck capable of keeping up with the demands of a mobile workplace.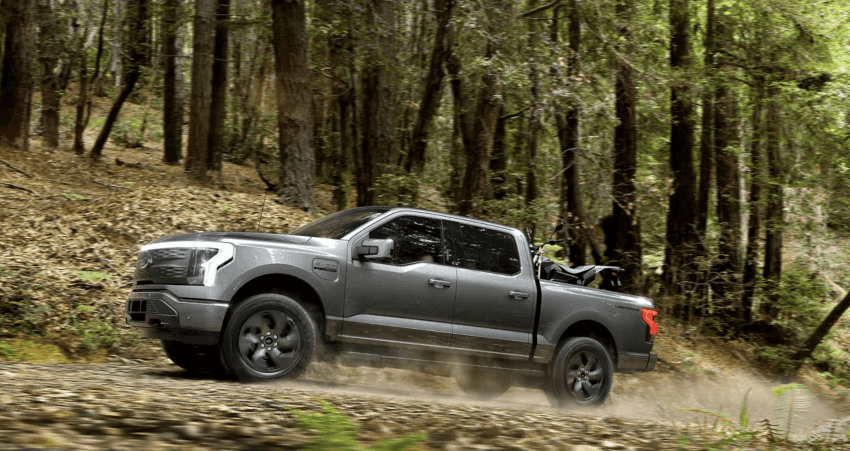 So, which of these very capable truck trims is right for you? That depends on what your needs are and how you foresee putting all that power to work. For many drivers, the standard F-150 is more than adequate, offering plenty of payload capacity and as much as 13,200 pounds of towing capability. For those who need to move large loads regularly or businesses who need the options to transport heavy cargo, the three-quarter and one-ton models offer as much as 21,000 pounds of standard towing, making them an even more formidable option.
Explore the Ford F-Series at River View Ford!
Now that you know the F-150 meaning, and that it simply classifies this full-size pickup as Ford's half-ton truck, it's time to get behind the wheel and experience its power! Contact River View Ford to schedule your test drive, and don't forget to browse our new Ford specials before you stop by. Want to get the financial process started from home? Apply for financing online to get pre-approved!
If you'd like to learn more about the F-150, compare it to the Ford Ranger and the Chevrolet Silverado 1500 before you get behind the wheel.
More from River View Ford
When you need a workhorse of a truck, there's nothing more popular in Naperville than the Ford Super Duty. Newly redesigned for 2023, the Ford Super Duty line is ready to wow truck owners everywhere with its incredible power and modern cockpit. The new Super Duty is on its way to dealers in early 2023…

If you're looking to be a part of Ford's electric and hybrid future, there's no better vehicle to join in with than the new 2022 Ford Mustang Mach-E. Offering power and luxury, the Mustang Mach-E is an electric SUV that will take your Naperville drives to new heights. A standout feature of this SUV is…

If you're in the market for a spacious and family-friendly SUV that won't drain your wallet due to constant refueling, you'll want to consider the new 2022 Ford Escape. The Escape is a compact SUV that lets you go the distance thanks to its efficient mpg ratings. Depending on which of the Escape configurations…